July 2023


Sea Horns for
Lingang, China.
Proposals for future urban elements in suburban Shanghai, Lingang District.

These elements, a sculpture - sea horn and reimagined trash cans in the landscape belt around Dishui Lake in the next emerging future-tech city.

Role
Designer, Concept & Development, Art Director.
Proposal 1
Sea Horn is a interactive public furniture piece that invites the residents of Lingang New City to listen to the pure sounds of the lake and sea as they walk the lake promenade.

The design of the horn works to amplify the soothing and subtle ebb and flows of the water to create a healing ambience of grace, bliss and a natural artistic atmosphere for the public while they sit in the gardens of the lakeside ring.

The intention is to allow the busy public to appreciate the natural elements that New City is built upon and around. Considering that the original concept of the concentric circles of the New City is based on the metaphor of water and its ripples, the Sea horns further elevate the importance of water in this city's culture and keeps its in the spotlight for as along as they flow.

Location
80m landscape belt around Dishui Lake in suburban Shanghai, Lingang District., China.
Proposal 2
A tiny moment of joy and contemplation can go a long way in enhancing the overall urban experience for city dwellers.

In a city that is an engineering marvel, where every detail is meticulously thought out, why not start the artistic revival of the city with the humble trash can? Regardless of location, trash cans always elicit disgust and frowns. Why is that? Our troubled relationship with our waste has brought about the current state of the Anthropocene.

What if we rekindled our ways of dealing with trash? What if the trash bin itself was an artwork, a sculpture, an object worth admiring?

By using recycled plastic from nearby industrial zones, we can create exciting, experimental, and characteristic trash cans that celebrate our relationship to our own waste by adding joy instead of disgust to the process. The forms are inspired by the creatures from the East China Sea, the beautiful sea anemones. Working to reignite the subtle geological beauties for the city of the future!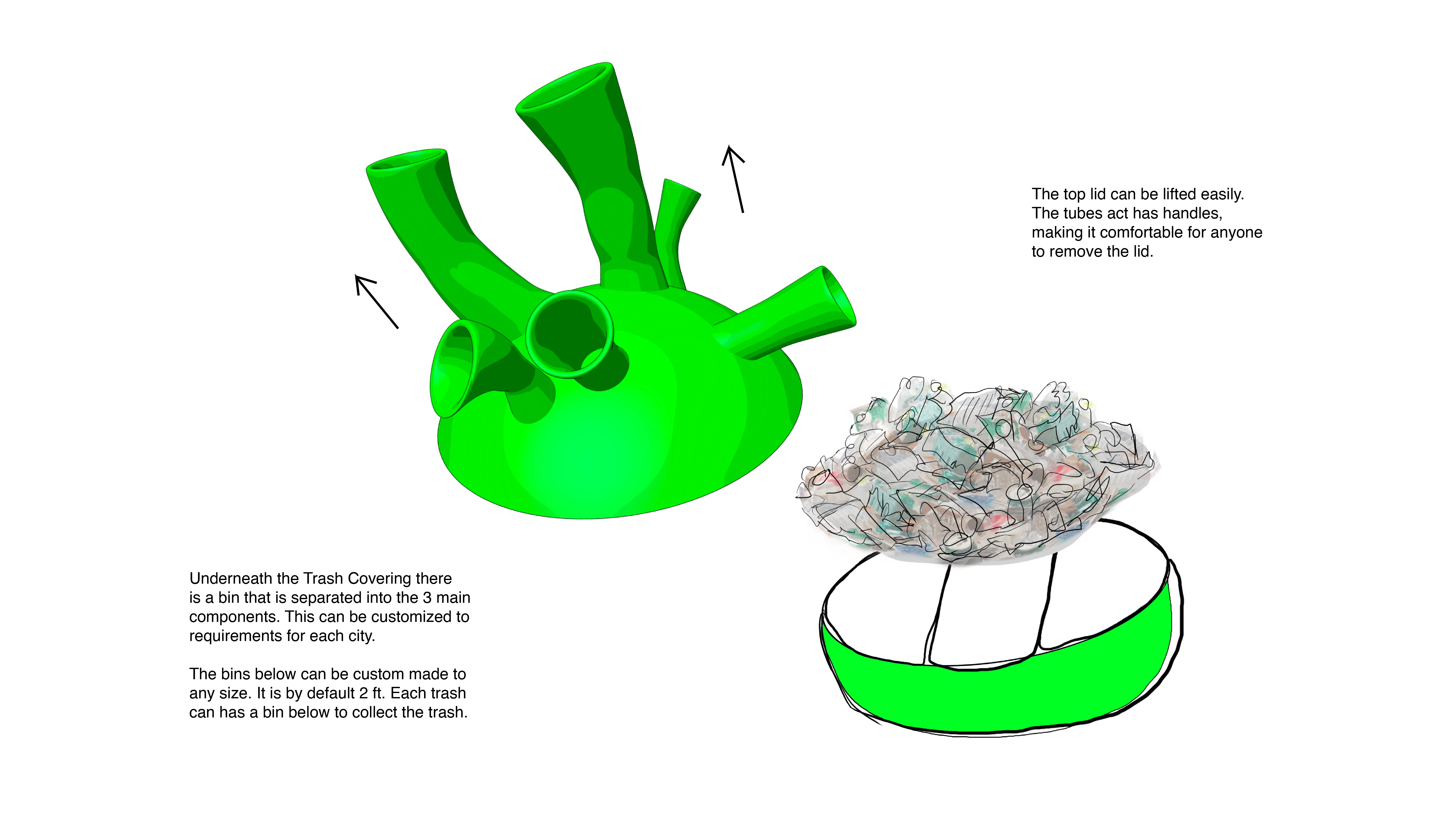 ---
Sponsor:
China (Shanghai) Free Trade Zone Lingang New Area Management Committee
Organizer:
Binku Cultural and Creative Development Co., Ltd.
Event Support:
Huajian Group East China Architectural Design and Research Institute Co., Ltd.

Central Academy of Fine Arts Sino-French Art Institute

Shanghai Maritime University

Shanghai Ocean University
Shanghai Electric Power University
Shanghai Electric Institute

Shanghai Jianqiao College

Underground Art And Design LLC
---
︎ Project Song Dedication - PFQSW︎︎︎


---